Alfa Laval pressure gauges provide accurate and reliable indication of internal pressure in vessels and systems used in the dairy, food and beverage and biopharm industries.
Accurate pressure measurement
Equipped with easy-to-read, 80 or 100 mm-diameter dials, these Alfa Laval pressure gauges are mechanical pressure-measuring indicators that cover a range of between -1 and 40 bar and process temperatures up to 200°C. A built-in volume compensator and a relief plug contribute to measurement accuracy.
Robust pressure gauge design
Manufactured from robust, resilient materials, standard Alfa Laval liquid-filled pressure gauges are cased in 304 stainless steel housing. All product-wetted parts as well as the clamp connection and diaphragm are made of acid-resistant, 316 stainless steel.
For more information, please refer to Documentation.
Product Benefits
Accurate pressure measurement

Mechanical pressure-measuring indicators

Robust pressure gauge design
Product catalogue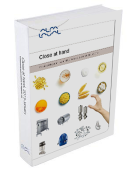 Latest 'Close at hand' online version
Operating principle
Alfa Laval pressure gauges measure pressure by means of the Bourdon principle. Silicone oil is used as the medium to convert the pressure applied to the diaphragm to a Bourdon tube. The Bourdon tube is in mechanical contact with the indicating needle and turns the needle on the pressure dial of the gauge to present the pressure measurement.
Options
Electropolished surface finish
Calibration-, 3A-, and 3.1 certificate
U.S. Food and Drug Administration Declaration of Conformity
Bar / KPa / Psi scale