Oro kondicionavimas ir šilumos siurbliai
Prekybos centrai, visuomeniniai pastatai, viešbučiai, biurų kompleksai, sporto arenos, čiuožyklos ir net uždaros slidinėjimo trasos visame pasaulyje aušinami naudojant "Alfa Laval" įrangą. Kiekvienam sprendimui gali būti pasitelkiami įvairių tipų šaltnešiai, taikomos skirtingos konfigūracijos ir naudojama skirtinga oro kondicionavimo įranga. Vis aktualesnis tampa ir poveikio aplinkai mažinimo klausimas.
Susiję produktai
Related services
Visos
Plokšteliniai šilumokaičiai
Šilumokaičiai su spiralinio tipo baterijomis, turinčiomis lameles
ŠVOK sprendimai
Vamzdiniai šilumokaičiai
Optimalaus patalpos klimato palaikymas
Įvairūs sistemų gamintojai oro kondicionavimui skirtose šaldymo mašinose kaip skysčio garintuvus ir (arba) kondensatorius naudoja "Alfa Laval" lituotus plokštelinius arba vamzdelinius šilumokaičius. Didesniuose pastatuose montuojami papildomi "Alfa Laval" šilumokaičiai. Surenkami plokšteliniai šilumokaičiai, kuriuose įeinančio ir išeinančio srauto temperatūrų skirtumas yra nedidelis, naudojami įvairioms tarpinėms kaitinimo ir aušinimo sistemos funkcijoms. Ant stogų perteklinei šilumai pašalinti montuojami oru aušinami skysčio aušintuvai ir kondensatoriai.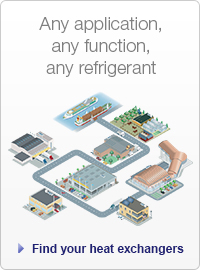 Alfa Laval offers reliable heat exchangers that deliver energy-efficient performance, whatever the application.Explore our applications.
"Alfa Laval" aptarnavimo paslaugos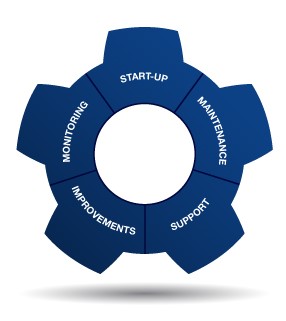 Siekdama išlaikyti aukščiausią jūsų įrangos darbinį lygmenį, "Alfa Laval" siūlo visapusį techninį aptarnavimą.
Susisiekite su mumis ir sužinokite, kaip galime praplėsti jūsų įrangos eksploatacines savybes.
Klausti dėl pasiūlymo Oro kondicionavimas ir šilumos siurbliai