Dairy processing
Alfa Laval is well equipped to provide the optimal components required for many different dairy applications. Our changing world means enormous potential for the dairy industry in the years to come. The key to capturing the opportunities is a clear understanding of regional and global trends. Alfa Laval's comprehensive range of innovative hygienic components are key building blocks in dairy processes. Our ongoing mission is to secure hygienic conditions and optimize dairy production.
Susijęs pritaikymas
Susiję produktai
Related services
Visos
Armatūra
Automatika
Išcentriniai separatoriai
Linijos vožtuvai
Lizdiniai vožtuvai
Maišymo įranga
Matavimo įranga
Membranos
Plokšteliniai šilumokaičiai
Siurbliai
Sprendimai alaus darykloms
Šilumokaičiai su mechaniniu paviršių valymu
Talpų įranga
Talpų plovimo įranga
Užpildymo sprendimai
Valdymo vožtuvai
Vamzdiniai šilumokaičiai
Vamzdžiai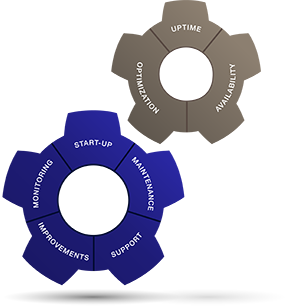 Our global service network has dedicated specialists, knowledgeable about your industry. We are here to support you with parts and expertise, wherever and whenever you need them.
The Alfa Laval 360° Service Portfolio covers all your needs throughout the life cycle of your equipment — from start-up, maintenance, support and improvements to monitoring services — for maximum uptime, availability and optimization.
By minimizing your total cost of ownership, we help you stay ahead of the competition.
Learn more about our service offer
---
An offering that helps capture the opportunities
Alfa Laval's global and local presence, comprehensive offering and world-class support ensure we can help you capture the opportunities of today and tomorrow. There are challenges and tremendous opportunities for those who can respond with flexibility and efficiency. To ensure our hygienic components support these challenges and provide the leading support for dairy applications, we strive to address these four key industry needs:
Supplying products to consumers at a competitive price
Getting the most from raw materials
Reducing waste and emissions
Delivering safe and hygienic products
Optimizing every process
Alfa Laval's comprehensive range of innovative sanitary components are key building blocks in dairy processes such as, milk reception and storage, pasteurization, fermentation, separation and concentration and cleaning in place are important to dairy applications.
Why choose Alfa Laval?
Proven reliability
Increase energy efficiency
Achieve the low operating costs and low total cost of ownership required for good margins in competitive markets
Ensure gentle and effect heat treatment and pumping, essential for achieving optimum quality and yield
Klausti dėl pasiūlymo Dairy processing